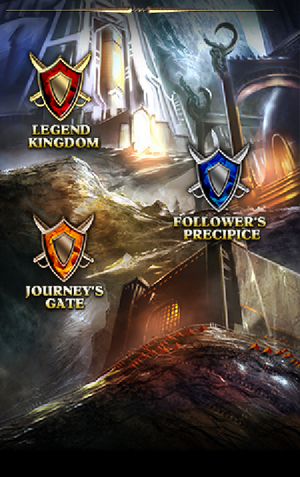 Players must be at level 5 to play the event.
The more victories you get (within 15 mins), the more combo bonus Battle Points you gain.
For a limited time and Base on the Leaderboard, users can be advanced Into different locations according to their ranking.
Battle Points Are only used for this event's rankings.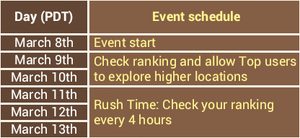 3 Main Locations
Edit
Journey's Gate for all users.
Follower's Precipice is reserved for the Top 300 users; here, find Follower's Source which can transform into Follower's pieces.
Legend Kingdom is reserved for Top 30 users; here, find Legend and Follower's Source, which can transform into Legend and Follower pieces.
Ad blocker interference detected!
Wikia is a free-to-use site that makes money from advertising. We have a modified experience for viewers using ad blockers

Wikia is not accessible if you've made further modifications. Remove the custom ad blocker rule(s) and the page will load as expected.